12 Best Scenic Drives & Road Trips in the UK & Ireland
For expats in the United Kingdom or business travelers who wind up on this beautiful island nation in northwest Europe, one of the ways to make the most of your time there is by taking a road trip to see the picturesque land.
The UK comprises England, Scotland, Wales, and Northern Ireland, and driving through its countryside is one of the great pleasures of the area. Thanks to a solid network of well-maintained rural roads, some of the world's most beautiful scenery can be seen from your car window with a leisurely drive. Whether you're in the mood for dramatic landscapes, scenic mountains, captivating coastlines, lush green valleys, or a little bit of history, the UK has it all.
We Explore to Following Drives:
Top 12 Road Trips in the UK & Google Maps Scenic Routes
Best Scenic Drives in England
1. Cheltemham to Stratford-upon-Avon
In Cotswolds England, riding along the B4632 Cheltenham to Stratford-upon-Avon (the place of Shakespeare's birth) is a favorite road trip among sightseers. The winding road isn't a major roadway, so travelers can enjoy a peaceful ride through the tranquil green hills of the Cotswolds, the scenery of which is emblematic of England's beautiful countryside, with meadows full of wildflowers, pastures dotted with sheep, and woodland terrain out of a fairytale, plus picture-perfect English villages on the way.
Stop at Sudeley Castle, described as "the hidden gem of the Cotswolds,"where Queen Katherine Parr (one of King Henry VIII's wives) lived and is buried. While you're in the area, see ancient Roman ruins at Spoonley Wood Roman Villa, a little over a mile (two kilometers) away from the castle, which includes a Roman mosaic that was unearthed in the late 1800s.
Continue down the road to Broadway Tower, a spectacular standalone structure dropped in the middle of wide-open pastures. Make a stop in the historic town of Chipping Campden, which offers great sightseeing of its own, including National Trust Hidcote, an "arts and crafts-inspired garden with intricately designed outdoor spaces" which include beautiful hedges and rare trees.
Once you get to Stratford-upon-Avon, be sure to check out a performance at the Royal Shakespeare Theatre.
2. Barnstaple in Devon to Newquay
Another great route in England is the journey on the Atlantic Highway along the north Cornwall coast in the southwest corner of England. The long and winding roadway from Barnstaple to Newquay will take you 107 miles (172 kilometers) through many of the country's most lovely spots on the coastline.
This route includes waterfalls, castles, and breathtaking bays. First stop at Speke's Mill Mouth Waterfall to take in the spectacular drop, and then make your way to St. Nectan's Waterfall, which is a stark contrast to Spekes, as Nectan's is nestled in the woods and has an ethereal storybook quality to it. Further south are Tintagel and Doyden Castles, both nestled on the English coastline, which provides a dramatic backdrop. Tintagel features a lengthy (and modern) footbridge high above the English coastline that many will find thrilling.
Surfers may want to stop in Constatine Bay to catch some waves, and non-surfers will enjoy the panoramic view. Nearby is Trevose Head Lighthouse, a stark white beacon that sits atop Cornwall's coastline. Catch the sunset at Bedruthan Steps.
End your journey at the seaside town of Newquay and visit Blue Reef Aquarium, which includes an aquarium tunnel under which people can walk while fish and sharks float overhead.
3. Bamburgh Castle to Alnwick Castle
If it's castles you want to see, then this route across the wild North Northumberland coast may be for you. Take in the dramatic sight of Bamburgh Castle, an ancient structure looming up above the neighboring village. Continue along the road to the 12th century Alnwick Castle, and you'll be passing by the bird-lovers paradise, Lindisfarne Nature Reserve. Northumberland has more castles than any other country in the UK and the drive will be one to remember, especially for history buffs.
4. Somerset to Cheddar Gorge
Make your way to Somerset and drive along the Cheddar Gorge, one of UK's greatest natural wonders and an ideal spot for a leisurely drive. Cheddar Gorge is a limestone gorge located in Mendip Hills, near the village of Cheddar, England. The gorge is also home to caves, which are open to exploring on foot. It was here in these caves where Britain's oldest complete human skeleton—"Cheddar Man"—was found in the early 1900s and was estimated to be around 9,000 years old.
Voyage down the B3135 and see the 27 magnificent cliffs just to the side of the road. For those not daunted by heights, this region also offers rock climbing.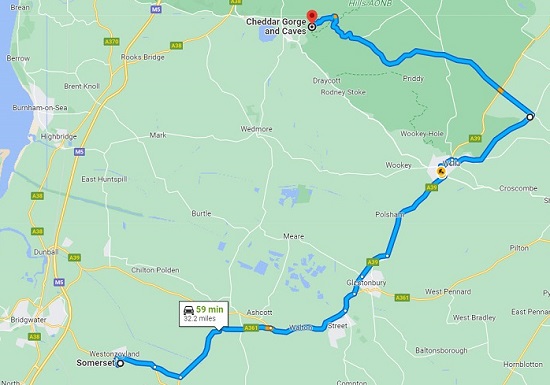 5. Journey Around New Forest
Brits will tell you that one of their favorite local drives is through New Forest in southern England, a designated national park in the UK. This beautiful route consists of scenic pastures, heathland and forest. Those with an interest in wildlife will have plenty of picture-taking opportunities along the trip, including the famous New Forest Pony.
Best Scenic Drives in Ireland & Northern Ireland
6. Belfast to Derry
The drive from Belfast to Derry in Northern Ireland is also a delight with unforgettable geological features. This voyage takes you along the northeast coast, bringing you by the magnificent Glens of Antrim, nine green valleys with a patchwork of fields and woodland flanked by the sea to the north.
Among the most spectacular sights is Giant's Causeway, a UNESCO World Heritage Site, consisting of interlocking rock columns that are a standout, even in Ireland, where everything holds an otherworldly beauty. Giant's Causeway (Clochán an Aifir) resulted from ancient volcanic activity, and the geometrical precision of 40,000 hexagon-shaped basalt columns makes this one of the country's standout sights.
Take a coastal walk to see Madman's Window before venturing further up the road to visit Torr Head, a lonely castle on the Northern Ireland coastline speckled with grazing white sheep.
At the end of the journey, stop by the ruins of the 13th century Dunluce Castle which sits atop a rocky cliff overlooking the sea.
7. Galway to Westport
A road trip from Galway to Westport spans Ireland's western coast for more than 100 miles (175 kilometers) along the N59. The drive will take you over to Clifden, past Connemara National Park which features bogs, heaths, forests, and grasslands that resemble scenery from Irish folklore. According to reviews from those who have hiked the park, the best trail is Connemara and Diamond Hill Loop which features dramatic views of the coastline from up high.
While in Clifden, drive the extraordinary Sky Road, and enjoy the stunning panoramic view of the Atlantic coastline from the comfort of your car.
8. Wexford to Waterford
The 62 miles (101 kilometers) from the Viking-founded town of Wexford to Waterford is a road trip you won't forget, as the road meanders across the wave-swept Hook Peninsula, with the 13th Century Hook Lighthouse sitting on the southern tip. The lighthouse is still in operation today.
The Hook Peninsula is rife with history, as it was the gateway into the country for the Vikings, English, and Anglo-Normans.
The waters off this route are also visited frequently by lots of marine wildlife including dolphins and whales, such as the giant humpback whale.
Scotland's Best Scenic Road Trips
9. Loch Lomond to Glencoe
For pure charm in Scotland, you can't beat the trip from Loch Lomond up to Glencoe on the A83 and A82. This passage will take you along the water's edge of beautiful Loch Lomond and into picturesque Argyll Forest Park with its jagged peaks, rivers, and hidden glens (mountain valleys).
Later, you'll pass through the spectacular Trossachs National Park where you can see wildlife including red deer, red squirrels, and black grouse, along with spectacular scenery like lochs and waterfalls.
Once you arrive in Glencoe, enjoy the fabulous views of the Pap of Glencoe.
10. Loch Lomond to Lochgilphead
The journey from Loch Lomond to Lochgilphead travels mostly alongside Loch Lomond before taking you south, along the islands of Scotland's west coast. The route offers a mixture of sights, including water views and rolling hills. Travelling north from Glasgow on the A83, you enter Loch Lomond and Trossachs National Park at Balloch. Stop at the park to stretch your legs on a trail close to waterways while looking out for wildlife.
11. Inverness to Nairn Loop
The Scots will tell you that the circular drive from Inverness to Nairn is a must-see for taking in the lavish Scottish countryside, picturesque at every turn. This route takes around two days on average and is a tour through the Scottish Highlands, an area famous for its natural beauty with lochs and looming mountain ranges. Begin at Inverness, a town famous for Loch Ness and its connection to the Loch Ness Monster, "Nessie," then follow the northern coast before heading inland past distilleries and castles, such as Cawdor, Kildrummy, and Glenbuchat Castles and then onto Cairngorms National Park.
12. Highland Perthshire Loop
The Highland Perthshire Loops may be well suited for nature enthusiasts eager to take a road trip to see a variety of Scottish landscapes. This scenic route also contains small, charming villages and starts at Kinloch Rannoch, a name that means "end of the loch," and sits at the very east corner of Loch Rannoch. Drive east through the countryside, making your way southeast to Loch Tay. Further down the road is Glenturret Distillery, Scotland's oldest working distillery which has been in operation since at least 1763, according to records. A little further south, you'll find Drummond Castle Gardens, an expansive and impressive collection of hedges and gardens that sit on the grounds of a 17th century castle. Access to the gardens is seasonal, so be sure to plan ahead if you want to stop here.
This route takes you back up north, passing by River Tay, Scotland's longest river. Also, along the route in Birnam, is the "Birnam Oak," believed to be over 600 years old and mentioned in Shakespeare's "Macbeth" as part of Birnam Wood. Just north of Pitlochry is Cairngorms National Park with plenty of paths for hikers to enjoy. The route finishes in Aviemore, where nature enthusiasts can explore secluded freshwater lochs and ancient forests.
Add to the spectacular scenery by veering off for short visits to Pitlochry and Aberfeldy with a route along the River Tay and Loch Tummel.
What You Should Know Before Driving in the UK
Before driving in the UK, it's important to understand the driving laws of the country and have the proper license and insurance.
Clements Worldwide can help you obtain a UK auto insurance as well as Ireland car insurance policy.
Related Helpful Content
Find tips, trends, and perspectives to help you confidently make decisions and navigate challenges internationally with peace of mind. Read how you can live, operate, and manage risks abroad.
Get a Quote for a Full Auto Insurance Coverage

Related Protection
UK Car Insurance
Motor, auto, car, whatever you call it we have auto insurance coverage for expats living in the United Kingdom. Customizable, and budget friendly, we work hard to meet your needs.
Related Protection
Ireland Car Coverage
Struggling to get car insurance in Ireland? Are your policy costs high? Access our dedicated local personal insurance advisors experienced in serving the Irish market.